Debbiedoo's
is hosting a holiday copycat challenge today. I have been wanting to participate in one of her copycat challenges for a while now, but was never able to pull things together quick enough.
I was proactive this time.
I have had this project ready for a while and am so excited to share it with you today.
My inspiration photo came from the Grandinrod catalog that came in the mail a few weeks ago. I just love these blocks and I knew I could recreate the look, and do it for much less.
I started by going to Home Depot and bought a piece of MDF. I knew the exact measurements of the blocks in the catalog and had the nice man at Home Depot cut my pieces to the exact size.
Here are the measurements if you want to make your own:
5 1/2" x 7" e (3)
5 1/2" x 11" L & V
7 1/2" x 8 1/2" i
11" x 7 1/2" B


I then painted the edges white. I didn't need to paint anything else since I would be covering the fronts with Christmas scrapbook paper.
I picked two colors of the same patterned paper and cut it to fit each block. I then decoupaged it onto the wood using mod podge.
Then using my Silhouette machine, I cut the letters out of white vinyl.
Here are the finished blocks in my dining room.
I love how they came out. I can't wait to hear what you think.
Tomorrow I am going to be over at
Before Meets After
participating in the Twelve Crafty Days of Christmas. Make sure you stop by there to see what else I have been up to.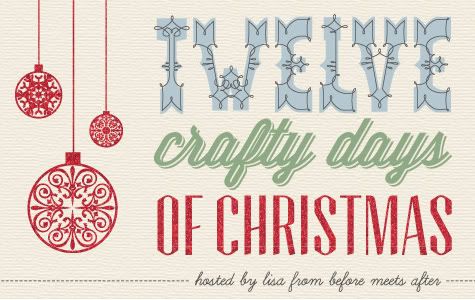 Then tomorrow night, in lieu of my Fall into Fall party, it is time for the Blogger Block Party. The theme for my leg of the party tomorrow night is banisters. Can't wait to show you my banister all decked out. I really can't wait to see what inspiring posts you all have ready.
Whew...it's gonna be a fun week! Hope to see you at all of the parties.
The winners of the Shabby Apple and ElemenOPillow giveaway will be announced tomorrow.
-Judy