This is my guest room. This room was re-done completely on a budget. Prior to this, the room was painted a dark gold color and had very rich autumn colors in the bedding (I don't have a before picture). I wanted something much less heavy looking and something that would be a soothing retreat for any overnight guests. I did the opposite of what I usually do...I painted the room before picking anything else. The walls are painted Benjamin Moore Nantucket Breeze. It was a Pottery Barn color from 2009. I wouldn't recommend doing it this way. I painted the room first because I was having trouble bringing bedding home and trying it in a room that was painted gold.
The bed is from Fortunoff from several years ago. I remember walking through the store and narrowing it down to this bed and another. This was the one I really wanted. After checking, the clerk told me they didn't have anymore left, however, I could buy the floor sample if I wanted for 50% off. How perfect was that...especially since there wasn't anything wrong with the floor sample.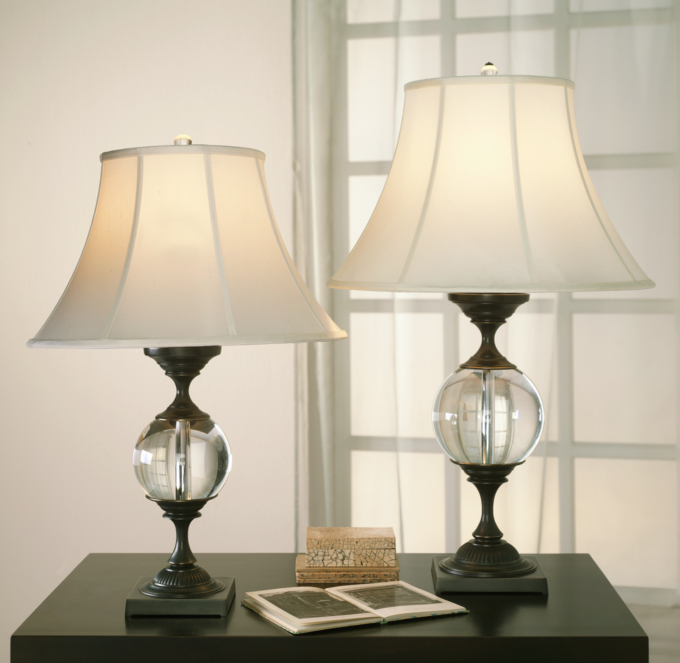 Image from Restoration Hardware
These lamps from Restoration Hardware were exactly what I wanted for the room. But at $259 and $329 respectively, I wouldn't even consider it.
The chair is from my husband's grandmother's home. It started out being extremely dark and in very bad shape. I sprayed it Heirloom White and completely took it apart and reupholstered it. I used nail head trim to finish it off.
Let me know what you think of the room. I always love and appreciate your comments. Thanks.