Welcome to Roomspiration - Guest Bedrooms.
I am so excited to be hosting today's edition of Roomspiration.
Before we get started with the party, let me share with you my guest bedroom.
This room came together on a budget. Prior to this, the room was painted a dark gold color and had very rich autumn colors in the bedding (I don't have a before picture). I wanted something much less heavy looking and something that would be a soothing retreat for any overnight guests. I did the opposite of what I usually do...I painted the room before picking anything else. The walls are painted Benjamin Moore Nantucket Breeze. It was a Pottery Barn color from 2009. I wouldn't recommend doing it this way. I painted the room first because I was having trouble bringing bedding home and trying it in a room that was painted gold.
The bed and the bench are from Fortunoff and were both floor models on clearance.
The furniture came from my mother in law's house. When she sold her home and moved to Florida she gave us first choice on what we might want. I loved this furniture...especially the armoire.
The mirrors on either side of the bed are from Target.
If you want to visually expand a room, you should consider adding mirrors to either side of your bed.
The birds and branches are actually a vinyl decal. I bought it at Home Goods for $6.99. Even in person it's hard to tell that it isn't painted on.
The center pillow is from Pottery Barn and the two side pillows I sewed from material I got on Fabric.com.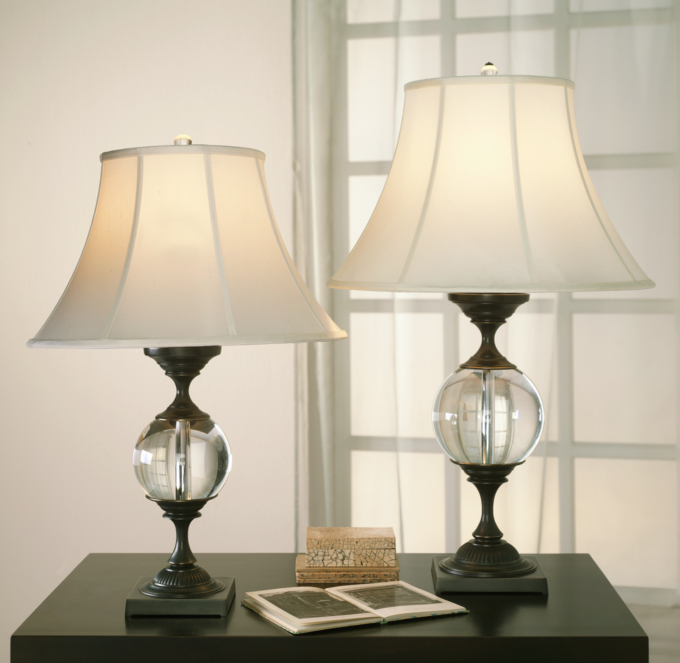 Image from Restoration Hardware
These lamps above from Restoration hardware were exactly what I wanted for the bedroom. But for $259 and $359 respectively, that was not going to happen.
I found these lamps from Home Goods for $39.99 each. How perfect is that match?
The chair is a Craigslist find that I repainted and reupholstered. You can check that out
here
. The side table is also from Home Goods and I got it on clearance for $24.99.
The bed faces the window, mainly because there is no other wall in the bedroom where the bed can go. However, this allows my guests to wake up and have the best view of our backyard in the house. From this window there is a perfect view of our new
patio
and
pool
.
This room is also where I do all my sewing. The chair is from my husband's grandmother's home. It started out being extremely dark and in very bad shape. I sprayed it Heirloom White and completely took it apart and reupholstered it. I used nail head trim to finish it off.
The sewing table is from a family friend. It was also sprayed with Heirloom White and new hardware was added.
I hope you have enjoyed touring my guest room. Now it's your turn. Link up your guest rooms below. I can't wait to check them all out.