The hunt continues for a rug for my living room. It's becoming an exhausting process. Yesterday I shared with you the rug I brought home from Home Goods that didn't work. Today the rug I have to share comes with a story. I mentioned last week that had seen a "one of a kind" rug at one of my favorite furniture stores.
It was extremely pricey so I felt that I needed to see it in my home before I could commit to the rug. I was told that there was another designer who had a client interested in the same rug. I needed to make a decision or else they would show it to her. I told them I couldn't make a decision and so they showed it to their other client. I was told last week that she loved it and bought it. I was disappointed however I am a big believer that things happen for a reason and this rug was just not meant to be. Of course, because I never got to see the rug in my home I started to view it as the the perfect rug and the "rug that got away". As I continued my search I couldn't get this rug out of my head. On Saturday I emailed the rug broker and asked if he could try to find me a similar rug. An hour or so later he called me and told me the woman didn't have enough credit to buy the rug and so the rug was available again. It was unbelievable that the rug I loved was suddenly available again. A second chance. I told the broker that I would be there within the hour to pick it up with the understanding that if I didn't like it is was fully returnable.
When I got it home and laid it out the first thing I noticed is that the gray/green border was really a light blue/green border, which really doesn't work in this room. The next thing I noticed, which really bothered me, were imperfections all over the rug.
There were at least ten of these long wavy lines of what looked like missing yarn throughout the rug. Definitely not acceptable for what I spent on the rug. Once I saw these imperfections I started to really investigate the rug. I was told the rug was 120 line. It turns out the rug is only 80 line. I was also told that the rug is "one of a kind".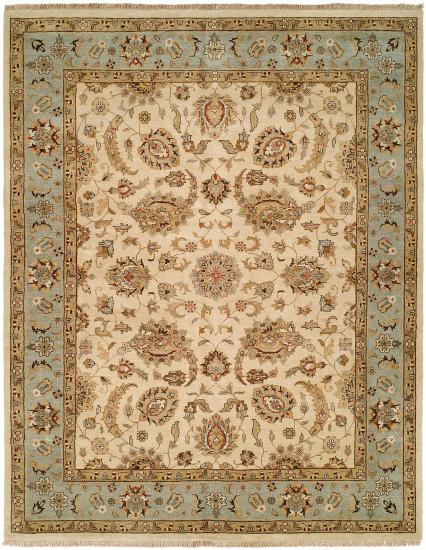 Funny...here is the rug on the
manufacturer's website.
I guess since it is hand-knotted no two are exactly alike, but it's definitely not "one-of-a-kind". Once I realized it was not one of a kind I went even further and started to price this rug at several different rug stores. Turns out the rug also retails for $1,500 less than what I paid for it.
The rug is being picked up this morning by the store for a full refund. I haven't even told them all of the information I now know about their "one of a kind rug". All that they know is that I didn't like it and wasn't happy with the imperfections I saw. Once I am sure that my money has been refunded I will decide if it's worth it to have a "conversation" with the store.
The best thing that happened is that I have completely gotten this rug out of my system now and can focus on finding a rug that will compliment the room. If this hadn't happened I would have always thought of this rug as the one I let get away.
Don't forget to stop back tonight for my Winter Blues Wednesday party that opens at 8pm EST.
Hope to see you there!
-Judy