The hunt continues for a new area rug for my living room. I've tried several rugs already and so far I haven't found the right rug. I have tried rugs that range in price from $400 to $4,000. Ironically when I had the $4,000 rug in the room my husband thought it was the $400 one I had returned the day before. That got me to thinking...what exactly makes one rug cost a tenth of the cost of another rug. Clearly it's not that easy to tell by just looking. I am not an expert, but I have learned quite a bit in the past few weeks. I wanted to share with you today what I have learned:
Rugs fall into three basic categories...machine made rugs, hand-tufted rugs and hand-knotted rugs.
Machine made rugs are an affordable option that are found at stores all over. Rugs come in many materials, but I tend to prefer a 100% wool rug. I find them to be soft and cozy. These rugs provide color and pattern to a space at an affordable price.
However, machine made rugs made of other materials can be even more cost effective. There are many indoor/outdoor rugs, in beautiful colors and patterns, available in the marketplace today that are a great worry-free rug without a big investment.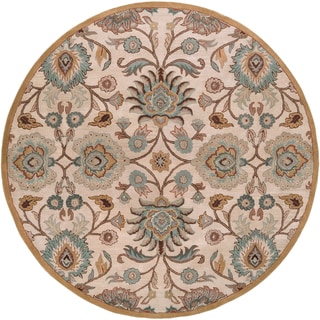 A hand-tufted rug is a step up from a machine made rug. A hand-tufted rug is made by punching strands of wool into a canvas which is then stretched onto a frame. This process is accomplished by hand using a special tool. It is not very time intensive and does not require the same skill as hand-knotting a rug. The price point on these beautiful hand tufted-rugs is usually higher than on a machine-made rug. Some of the more pricier options on Ballard Designs, for instance, are hand-tufted rugs.
Hand-knotted rugs require skill and time. In general, the quality of a hand-knotted rug is determined by the number of knots per square inch, and a higher density means a higher quality rug.
I was told by the rug broker that this rug was 120 lines. In fact, when I inspected it further, it was more like 80 lines. To determine the line count for a rug, just flip the rug over and take a one inch by one inch section, preferably with all the same color wool, and count the height and width of the one inch section. Then multiply the two numbers together. This rug counted 9 x 9 in a one inch section. Also, look at how the knots are not uniform, not a sign of high quality. I was charged $4,000 for this rug. When I researched it further, it turns out this rug retails for $2,500 (a more realistic price for something of this quality). Yes, I did return it and get my money back.
Here is a hand-knotted rug in our family room. We bought this fourteen years ago. It is a 400 line rug and it cost $3,500 back then.
Here is the back of the rug. The rug measures in a one inch section 20 x 20 which confirms that it is a 400 line rug. It being a 400 line rug does not automatically make it higher quality. Look at how perfectly the knots line up - that speaks to it's quality. Also, when you turn the rug over and the pattern is as clear on the back as it is on the front, it is another sign of a high quality rug. This is a high quality rug.
Remember, value is not necessarily determined by how much something costs. You need to do your homework so that you understand exactly what you are purchasing.
Hope this helps you the next time you are in the market for an area rug.
For now, my hunt continues...
-Judy