Have you seen all of the lanterns they are showing in home decor stores?
image from Pottery Barn
image from Pottery Barn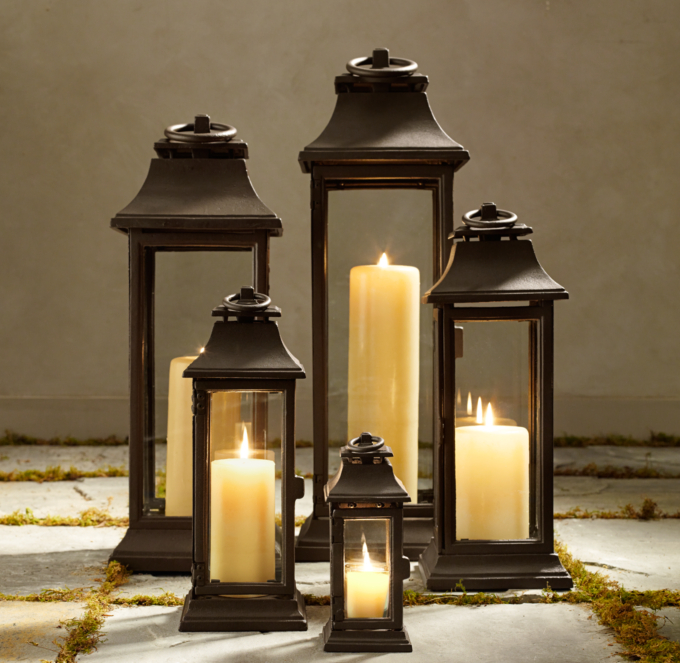 image from Restoration Hardware
image from Frontgate
Are you loving these lanterns as much as I am? There's just something about this...I knew I had to incorporate this into my summer decorating. Of course, all of the images above are very pricey.
So while in my favorite store, Home Goods, I came across this beautiful lantern. I loved it, but didn't buy it. I left the store and couldn't get it out of my head. I went back the next day and they were gone. That's the thing about Home Goods...if you see it...buy it. You can always return it, but once it's gone it's gone. Two weeks later I was in another Home Goods and there was a display of the lanterns. The same lanterns I had passed on two weeks earlier at my local Home Goods. This time I bought two.
I bought three candles that were on clearance and placed them in my lanterns.
I've tried them separated...
...and grouped together.
I think I like them grouped together the best.
I love how these lanterns have updated my mantle for the summer. What do you think? I'm loving the weathered look.
Don't forget that my Swing into Spring party opens tonight at 8pm EST. Hope to see you all then.
-Judy