Today
Debbiedoos
is hosting a copycat party as part of The Great Spring'tacular link party.
Here is my copycat project...
My copycat project is inspired by two projects I saw on Pinterest.
I loved the eggs and the bird nest artwork. I wanted to put my twist on both.
I decided to create a spring vignette with these two elements in it.
For the egg I used a styrofoam egg, pink straight pins and a flower punch.
I sat the egg on top of a candle holder. Instead of making my nest art out of burlap, I took the burlap and filled the candle holder with it. I placed the candle holder on top of more burlap inside of a turquoise bird's cage I got at Michael's at 50% off.
For the artwork, I had a canvas in the house and left over paint from many different projects.
I started by painting the canvas Benjamin Moore Palladian Blue (which was left over from our home gym renovation project...you can check that out
here
).
I dry brushed a little white on it as well.
Then I painted a nest and bird's eggs in the nest. I took my favorite nest on my inspiration piece and painted it front and center on the canvas. I used AS Chalk Paint in Duck Egg to paint the eggs.
I am not an artist...at all...but I really like how it came out.
I added two little ceramic bird's from Michaels on top of a writing notebook
I already had to round out my vignette. The vignette is perfect in my guest room...
which already has a bird theme.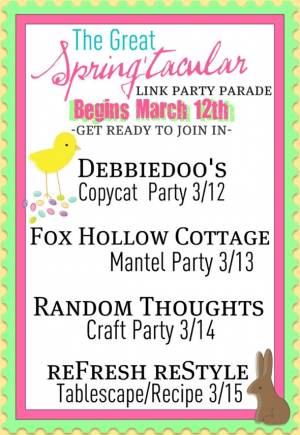 Hope to see you over at
Debbie's
.
Can't wait to hear what you think of my project.
-Judy